---
Featured Artist
annette lacroix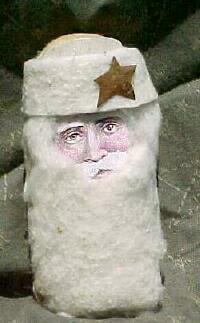 raised on a relative's farm in rural vermont, annette lacroix found it commonplace to sit down to meals with 17 people. the household, at any given time, might include upwards of 12 children, her grandfather, two of his unmarried siblings, and a hired hand named "skinny".

busy farm life focused on little time for play and toys were a luxury. even reading done outside of school, was not encouraged. "i was given the sears catalog" net recalls "not because i would be allowed to order any thing - but to entertain myself with". nettie would sneak up into the hay loft and cut out people and furniture creating paper families and shoe box style households that included cut out refrigerators and stoves. it was a special occasion when her grandma clark would present her with a hand sewn toy. drawing also gave annette pleasure and she sketched when should could find a free moment.

as a young married mother of a six month old net had to face the difficulty of widowhood. with a small child to raise, self reliance drove her to earn a living by making things. net remembers that simple things, like a ride through town with her son in the 1947 baby blue chevrolet, gave inexpensive entertainment.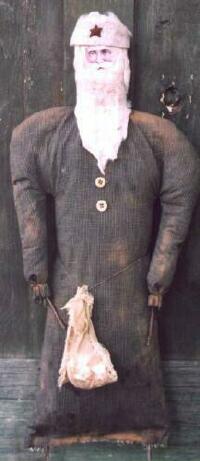 on one such drive net stopped the car to allow pedestrians to cross the street.
a woman called out to net,
"where did you get that hat?"
net replied "i made it".

"and what about the necklace?"
"i made that too".

"pull the car over so we can talk!"
net found her self driving away with a new position as a designer at a middlebury studio. the duo's designs were well received at their first showing. soon after net's partner made plans to relocate the studio in new york. net was able to stay in vermont, delivering designs monthly to the studio.
the business was doing well, but due to family problems her partner could not continue in their venture. undaunted, net enrolled in and eventually graduated from wall papering school. she kept designing on the side.
in 1987 she moved across the state line to new york purchasing the home she still lives in today. she made a living doing free lance designs. during her first years in new york the lack of quality children's accessories available compelled net to create with her own hands everything needed -from high chair to the bowl he ate out of- to raise her son.
her art while in new york included built settings, reminiscent of the little boxes she made in her youth. the sears catalogs were replaced with cardboard, wire,lights and religious objects. annette's reputation began to grow and before long she had the honor of being invited to create installations in local galleries- often being given one or two whole rooms to utilize. one installation she recalled was titled "women's work" and included flowered dresses collected from various rural farms-women. through out the room were clothes lines, brooms, mops, and dustpans. the main focus of the display included blown up photographic cutouts of a fisherman and his wife who had been married for 40 years. the couple stood in front of a green wooden altar decorated with many tiny silver charm metals. "it was a tribute to the strength a qualities of women" net said. her design work earned her an offer to work with a major design firm based in hong kong. annette realized her first priority was to be with her son and declined the position.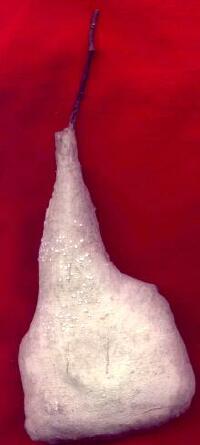 the year her mother died she met with her brothers to divide up possessions. net took the sewing machine and a fan, thinking she didn't know what she'd do with a sewing machine. though she always made things with her hands, net had mostly been on the "design side" with not much sewing experience. the machine sat dormant in her home until a friend inspired her to try sewing a few things for income.
as her client base grew and changed people would flock to her home several times each year purchasing her dolls and sewn goods. eventually the demands of a full time sewing schedule became overwhelming. she remembers telling long time customer and friend kathy schoemer "these are the last things you are going to get from me". kathy was disappointed but when annette revealed a gingerbread cookie cutter she had crafted herself, kathy decided to tell her friend mary emmerling about net.
country home magazine decided to do a story (dec. 1999) with net's cookie cutter. the article would focus on the cookies and cutters which would decorate kathy's home. net spent a week preparing and baking the cookies. the sewn goods with which kathy had decorated her home became the focus of the article and the public began to contact net for more. the beautiful cookie cutter was almost too small to be noticed in the magazine.
net reluctantly got back behind the sewing machine once more but after sewing for a year as a result of the magazine article, she was once again ready to change. she joked to a friend "i'm going to throw them (the patterns) out - then i'll have to stop". her friend suggested selling the patterns instead so that people could do their own sewing. which is exactly what happened next.
"i couldn't believe all that went into making a pattern" she remarks. net tends to rely on photographs or drawings to help guide the sewer through the process and prefers to keep directions to a minimum. "i like to tell how i did it, but not "how TO do it"." she adds everyone has their own way for making things look worn and used and then you just "beat the hell outta em".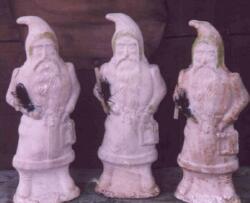 today net designs and makes many things. she has her own line of chalk ware developed from historical pieces that she collects and restores. each piece is cast and painted by the artist herself. her latest venture will be producing photograph greeting cards of her dolls and collections as well as a paper face santa kit. the kit is unique in that there are several faces that can be used when completing the santa.
for the future she looks forward to building a fire place in her 1812 federal house- once home to a military colonel during napoleon's invasion on russia. her plans are to hold classes teaching hearth cooking and sewing. the home, with its slate roof and 'twelve over eight lights' windows compliments annette's love of history. she says it is history that got her interested in dolls in the first place. some local historians live within a few blocks and to her it's an added bonus.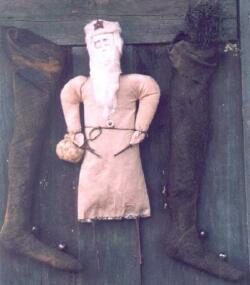 net's message is to encourage women to take care of them selves: body mind and spirit-keeping all three in balance. she says women can benefit from looking not to the outside world for what they need, rather within themselves.
the fact that she has done so many things with her life in and of itself would make her both interesting and inspiring. add to that the way she's gone about all of it: keeping focus of her role as mother, yet never loosing sight of her creativity as she gracefully allowed the chapters in her life to unfold. it seems to me, an occupation in art gave her the freedom to stay at home with her son, and her maternal instincts supplied motivation to be a successful artist.
publisher's note: Annette's patterns are currently shown and sold on Homespun Peddler's N. LaCroix catalog page. Annette has stopped selling patterns on a wholesale basis, so we have a limited remaining stock. When those are sold, we will no longer carry Annette's patterns.

Items shown are: santa pin,small santa,pear,chalk ware santas,large santa & stockings. These are available directly from Annette as finished products. see contact info in "burlap sack" section.
---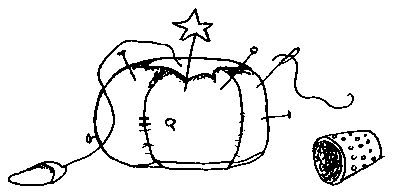 tips & techniques




tin punch picture
many enjoy framing bits of quilts, old photographs and embroidery. another good candidate for framing are the tin panels from dismantled pie safes.

i've seen them at sales, pulled from pie safes that are broken down beyond repair, or removed from ones being restored. many times they are painted or rusted or both. these can be framed (without glass) or hung with wire for an interesting decorative piece.

try back lighting one that is placed on a plate holder, the holes will allow the light to shine through for a nice effect.
new tin punch sheets are also available as are tools and templates for punch designs. finishing effects include painting (try layering paint), rusting, and "black" to age the tin. spray with matte sealer to protect your finish (even with rusting).

another item suitable for framing are pressed metal ceiling tiles. these too can be found at sales or are available new from restoration companies. and i've even seen a large tin ceiling tile creased, stood on end and used to conceal a fire place in the summer months.
*see burlap sack resources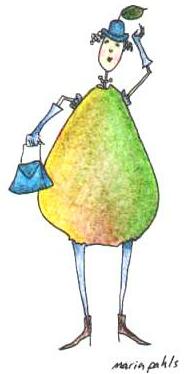 strawberries on the floor?
when your windows are open do doors often slam shut or continuously bump into the nearby wall? real lead or iron door stops can be cumbersome, scratching the door and flooring of your home. try enlarging a basic strawberry pin cushion pattern and making two strawberries filled with sand. join by some cording at each top. lay one strawberry on either side of the troublesome door to keep it right where you want it during windy days. as an option you can use "scotch guard" brand spray to treat the fabric before sewing.

paiper mache colorant
when experimenting with instant type paiper mache i have found that interesting effects occur when acrylic craft paint is mixed directly with ready made pulp (found at most craft stores-and fondly referred to as "dust in a bag"). using latex disposable gloves to protect your hands you can mix by kneading paint into the pulp. (omit water in the mix as it makes the pulp too wet and it will not keep form.)


---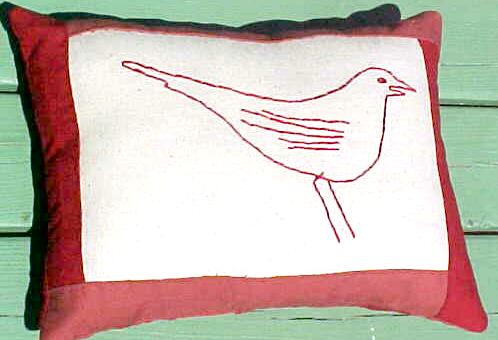 PROJECT red work bird pillow


this simple bird can be printed out and sized to suit what ever application you choose it for. i made a pillow front with mine.
Click on this project link for some basic instructions for my pillow. but you could use the design as a quilt block for a red work pieced quilt, a framed piece or a sewing pocket decoration.
---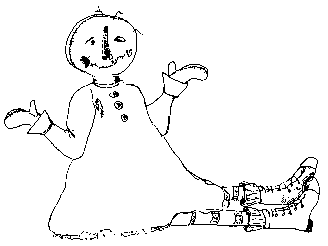 WHAT'S IT?
penny nail: nail are sized by the term "penny" (which is abbreviated "d"). an 8 penny nail is shown as "8d".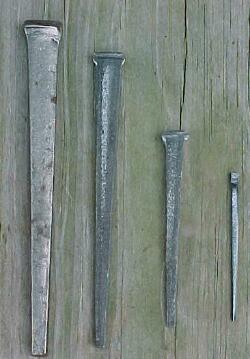 There are several definitions of the origin of the penny system. The most common is that nails were once sold by the hundred count for a penny. The quantity of nails (in hundreds) you would get for a penny or "d" shown as a number. for example 8d meant 800 nails for a penny.

Alternatively, the book How to work with Tools and Wood (Pocket Books - 1955) states that the Penny system "was based on the number of nails of that size in one pound. In time this came to be mispronounced until it became "penny". A ten-penny nail weighed 10 pounds (pennies) per thousand nails."

the price significance was lost over time and the term "penny" evolved to denote nail length. Today the penny is a standardized measure of length where 2d=1", 8d=2½", 20d=4" etc.

Shown above at right are "cut nails" which were replaced in the 1890's by the modern "wire nail". Cut nails are making a come back for craft projects and other decorative uses. (See the spider web below for some nail links.)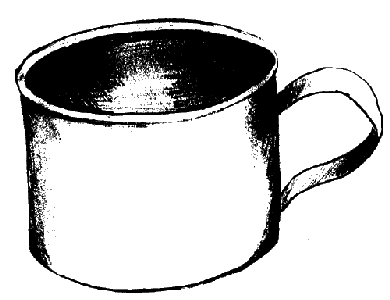 penny mug: during the 1800's small tin mugs were used as a way to reward children who made good grades in school or sunday school.

petit point: a small stitch used in needle point or doing needle point using small stitches.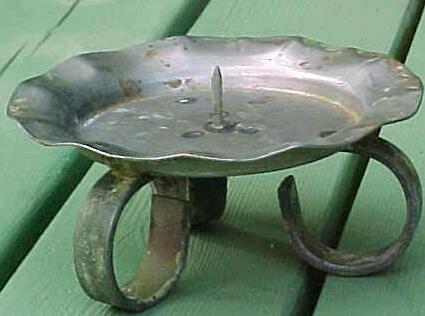 pricket: a small point or spike for holding a candle upright or a candle stick that has this type of spike.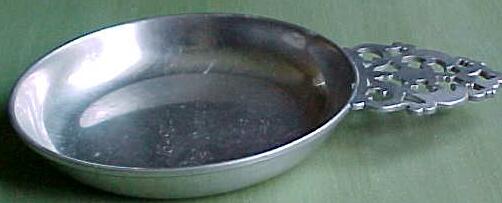 porringer: a shallow cup or bowl with a handle.

commode: a low cabinet or chest of drawers on short legs or feet, often with elaborate decoration. 2. a. moveable stand or cupboard containing a wash bowl. b.a chair enclosing a chamber pot. c. a toilet. 3. a woman's ornate headdress circa 1700.

wicket:
a small door or gate built near to or into a larger one.
a small window or opening fitted with glass or grating.
a sluice gate for water regulation in a millrace or canal or for emptying a lock.
in croquet any of the small wire arches that the ball is to be directed through.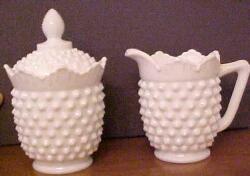 hob nail:
short nail with a thick head used to protect the soles of shoes or boots.
a finish usually in glass ware that resembles small raised beads.


penny squares: small varied patterns in many themes that were meant to be embroidered esp. in red work and were often joined together to form quilts or other household items such as laundry bags. they were purchased with the design pre printed on the muslin cloth (often in the store while you waited with pin prick stencils) and were sold for a penny or two each. (from late 1800's to 1920's)

turkey red:popular thread dye most used between 1860 and 1930. originally used in turkish rugs. the threads dyed with it were fade resistant and color fast.

red work: is a term applied to a simple linear style -generally running stitch- embroidery done with red floss. motifs ranged from the ordinary such as household items and farm animals to unusual themes such as state maps and historical figures.

---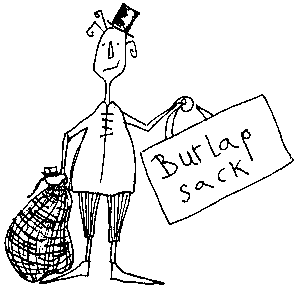 burlap sack