a note from paula on the bee swap dolls she received:

"The bee swap was the first completed swap that I've participated in. I have enjoyed it so much. I received two dolls. The first, "Beatrice" came from Diane. She has a square body embroidered with flowers and the saying "bee mine".

Her face is painted and embroidered and aged. Her expression is wonderful. She has black strip arms and legs and holds some dried flowers. Her wings are painted a neat golden-olive.

The second doll to come came from Sylvia. Her name is "Claire". She has elegantly long arms and legs and long wool braids. Her dress is rust and white. She has an embroidered apron of flowers and the words "flower music" Sylvia made these neat little fabric bees with metal wings on the apron. She is carrying an aged watering can.

It was really exciting each persons interpretation of the bee theme. The dolls were so creative! This bee swap was special to me because I had a favorite uncle who used to keep bees. He passed away a few years ago and since then I have started a collection of small bee skeps. These two dolls will be a special addition to my collection."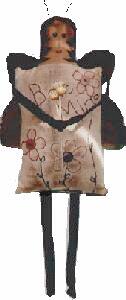 "Beatrice" © Diane Braund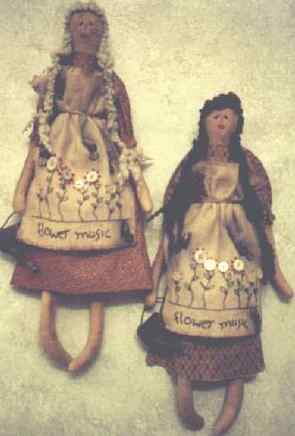 "Claire" © Sylvia Ricks