pp: shari, tell us about how you got started...

sl: I started about 9 years ago making Father Christmas dolls, hand sculpting the face, hands and boots, and making a lot of my own toys. In addition, I enjoy haunting flea markets, antique malls, and thrift stores for fabrics, trims,and laces, or toys, antique children's books.

What started out as a favor 9 years ago to a friend, has grown into a full time business for me. I find a lot of joy in creating my dolls, and especially selling to collectors who have followed my work for all these years.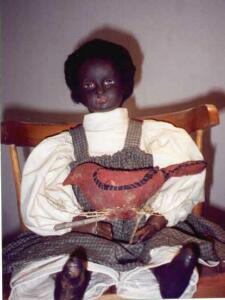 Bird in Hand Doll
© Shari Lutz