Try this simple primitive doll...

cut a 3x6" rectangle of homespun and a muslin rectangle 3x2 for the head. Sew the two together on the 3" side, resulting in one rectangle. Fold in half, right sides together. Using small stitches run a 1/4" seam along the bottom and sides (leave a 1" opening on the side for turning). Clip corners. Turn and stuff, a little at a time, until very firm. Whip stitch opening.

Draw a simple face with brown (pigma type pen). For hair use mohair,or natural type fibers. Sew a thin piece of antique off white lace around the neck as a collar to hide stitching. Attach a small old button in center front or sew several old mis-matched buttons down the front.

To add a skirt, use a homespun strip about 8" x3". Use a running stitch 1/4 down along the 8" length then gather.Leave frayed edges showing on waist and hem and attach to doll.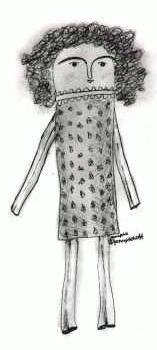 © Penny Dehoff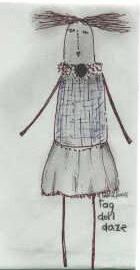 © Penny Dehoff