ARTIST INTERVIEW
with QUILTER
PAT SLOAN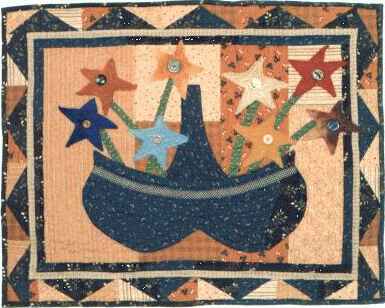 another talented person i am fortunate to correspond with is pat sloan! pat is always very enthusiastic and ready to lend a hand when i need one. i always enjoy seeing the beautiful creations she comes up with in her medium of choice, quilting.

seed pod: pat, please tell us about how you began quilting?

pat: "It is all my friend Gwyn's fault. I thought quilting was too precise and would take too long to do, but she was sure I would like it, She encouraged me to sign up for a beginners class-I was crazy about it right away! That was over 10 years ago.

I have sewn clothes since I was a kid and I have always loved fabric. Over time I really wanted to applique, but I thought that was too hard. Once I started to do applique, and found out I love that even more than piecing!! Applique has given me the freedom to do more folk art type designs.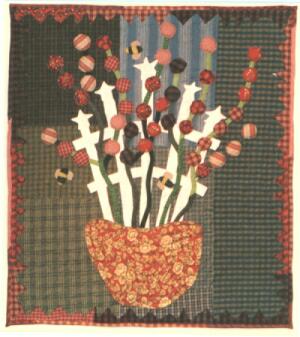 It is really the fabric that is the big pull for me in quilting. I love pattern and design, the feel of fabric and way it works into a piece."

seed pod: what style do you typically work in?

pat: "I think I work in a traditional/folk art style. I have ALWAYS been a huge fan of Red Wagon, Brannock and Patek styles. I also love all the Kindred Spirits stuff. I try to do my designs based off traditional folk art, which is a little more child like and leans towards primitive."

seed pod: where do you get your inspiration for designs?

pat: "Old quilts, gardening books and country/primitive decorating magazine/books. One of my magazine series is based off a ski I saw in the window of a shop! Sometimes things just hit. I often take elements from several places and put them into one design.

I'm also inspired by stories of how artists think and work. I'm really drawn to how an artist thinks about their work. Whenever I can, I read or watch stories that relate to artists (and musicians). "

seed pod: on average what size are the quilts you make, how long do they usually take?

pat: "I do mostly wall hanging size, because I am so impatient I want to get it done! I also have so many ideas I want to try that doing big quilts would take time away. I do a wall hanging in about a week(for those who don't quilt this is kind of fast or so my friends tell me!). I'm VERY focused when I work, so it goes quickly".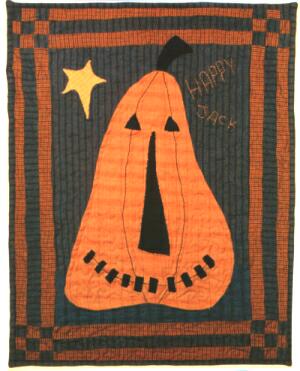 seed pod: do you collect quilts, what are your favorite types?


pat: "I have a very modest quilt collection. I have 2 family utility quilts from my in-laws. (No quilt makers in my family). I also have a few other folky quilts, one is baskets and the other is a string quilt. I really like pieces that were made to use up scraps and might be considered odd. I often wonder what the quilt maker was thinking when she did it. I have also collected some old blocks that I made into quilts. I think the maker would be very happy that something was done with them!! (I finished her UFO)"

seed pod: how many patterns have you designed & tell us about your exciting news with indygo junction.

pat: "I have 13 patterns, with more coming out on a regular basis I started publishing my patterns about Feb of 1998. I went to the wholesale quilt market in October of 1998 and had wonderful feedback about my quilts. This is where I meet the owner of Indygo Junction. She told me to call her if I ever wanted someone to publish for me. After market I took a look at what I was doing and what I wanted to be doing and decided to concentrate on designing. I approached Indygo and they were excited to add me to their company. I feel it will be a wonderful adventure. Indygo is very professional, has a great name that people know, and they do lots of marketing. A perfect place for my patterns to be! "

I am also excited to have my own ~ called 'Pat Sloan & Co'. I hope everyone will enjoy my new pattern line which is due out in fall of 2000.

seed pod: tell us a little about you, pat:

pat: "My biggest accomplishment in my personal life is having married my best friend and we will be married for 19 years in June! My husband is wonderful and supportive, I'm very lucky because not only is he great but I also have the best in-laws in the world! My mother-in-law Madge is my best friend too.

I also do a little gardening, I bake (my favorite form of cooking), and I LOVE DOGS (the best animal there is!)."

seed pod: how about some pointers for someone interested in starting a primitive quilt?

pat: "The basic elements include color, pattern,fabric and size...

Color - Since this audience knows about the colors of primitive work, stay with them for quilts. This would be toned down, or muddy, colors. I love mellow yellows/golds used with reds and navys. Then add in some other things for a surprise,pumpkin,blacks/beige.

Pattern-If you want to piece, pick any traditional pattern. With your colors it will look old. If you want to applique go for larger shapes, things that are less detailed. You can design your own or work on a published pattern.

Fabric-My favorite subject! Mix flannels in with your cottons. Use quality fabric which will give your piece a long life, and add in some that you tea dye or over dye yourself. The technique of using an over dye can completely change the fabric. I would avoid novelty prints because they will date your project in the future. Select fabrics that are time honored-plaids, small prints & florals. The shirting fabrics tea or over dye really nicely.

Size- Do something small so you can work with the colors, fabrics and shapes. "