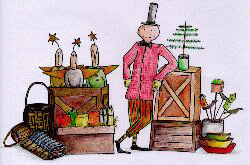 ---
Homespun Peddler
115 Fourth St. Ave.
Bay City, Michigan 48706
Phone (517) 891-9860 &nbsp &nbsp &nbsp &nbsp Fax (517) 686-8016
---

The SEED POD Presents

The Best
TIPS
from 1998
---
thanks to all who shared these!
Maria



---


holiday tips

easter

primitive easter eggs: use purchased brown "papier mache" eggs. paint them in assorted dark pastel colors. once dry decorate them with dots and squiggles in contrasting dark pastel colors. once dry, apply brown shoe polish to darken and give an antique look.

real eggs and natural dyes: gather small leaves,ferns,weeds and flowers that have lacey shapes. place the egg in a nylon stocking. position the small pieces of greenery between the stocking & egg, knot stocking to secure and proceed to dye. if hard boiled, the egg inside will dry up eventually. do not keep unboiled eggs as they will spoil and become rancid.

amber color: boil the eggs in onion skins. 2 qt. cold water, 6-8c. yellow onion skins and 1 c. vinegar. boil for 2-4 hours.

blue: substitute red cabbage for the onion skins and increase boiling time to 6 hours.

halloween

pumpkin tips

when drawing faces on pumpkins to cut out jack-o-lanterns be sure to use water soluble marker so that any unwanted lines can be washed off.

clean and dry your seeds (sprinkle with coarse salt) then bake in a single layer in a low oven until lightly toasted. they make a wonderful snack.

for a fun look, try filling a rustic wooden bowl with all white baby boo pumpkins or miniature patty pan pumpkins.

when taking pictures of carved jack-o-lanterns, place in a dark room with the flash setting turned off. this produces a frightening effect that will show only the lit features.

if your pumpkin is starting to become mushy just soak it in a bucket of cold water for 1 to 8 hours to help it spring back to life. carved pumpkins can also be kept wrapped in plastic in the fridge to help prolong life.

straw for scarecrows

toting home a bail of straw can be a messy task if you don't own a pickup truck. bring along an old bed sheet to line your trunk or back seat and a second sheet in which to wrap the bail in before placing in your car. this really cuts down on the mess.

place markers

create unique yet inexpensive place markers for your holiday guests. begin early in the fall to collect vibrant leaves. press these in between the pages of telephone books and 2 layers of waxed paper. (press plenty in case you need more than expected). letter each guest's name on a leaf with metallic gold,silver or copper markers and hold in place under the edge of a goblet.

christmas

cut out cards

save cards with santa faces and cut out the following year for making batting ornaments.

card fronts

many card fronts can be recycled into holiday postcards or gift tags for the following year. (this works well for most all cards)

egg cartons

egg cartons recycle into great storage containers for packing away small christmas ornaments that are breakable. (or those easter eggs you dyed in the spring) for larger ornaments cut off the top of the carton and just use the base.

gardener's gift

for the favorite gardener on your gift giving list why not stuff some garden boots instead of a stocking this year? all you need know is their size and you can pack a pair of garden boots with useful garden items such as gloves, pruning shears, gift certificates for seed catalogs and garden supply stores as well as a bundle of metal garden markers, a box of herbal tea and some garden inspired home decor. also a nice smaller gift for a gardener is always a forced bulb kit ( a bulb glass, and the bulb of your choice you can find instructions for how to force a bulb-on many gardening web sites)

twig stars

create rustic twig stars from cut pieces of grapevine or branches. wire together at the points. if you can't find brown wire, rust the wire in a bath of bleach or cola before binding the twigs.... tie finished stars to trees out doors, attach to gifts, display on swags of greenery or adorn an indoor tree.

miscellaneous techniques

when working with grape vine (and it is seemingly dried out) there is one trick you can try to get it pliable. soak in warm water for several hours with a few table spoons of liquid laundry fabric softener. sometimes this will put the life back in dried out baskets too (but this is only a last resort for the baskets always check with an expert before cleaning any very old or valuable basket).

crackle

for a unique crackle look try mixing acrylic paint and white glue 1 to 1. apply to doll body for a base coat and allow to dry. next apply a heavy coat of crackle finish product and allow to dry. apply a layer of top color over the set up crackle finish. once dry apply a coat of brown paint or antique stain to bring out the cracks. the finished look is similar to wood and very stiff

orange peel template

if you want to make a template for a ball shaped doll head. simply cut an orange into quarters and trace skin shape onto brown paper. keep in mind the seam allowance.

raw hide felt

for an interesting look using felt, try dyeing felt a dark color (it may repel the dye so squeeze it when in the dye bath and dry flat so that dye dries on the surface) . when dry, apply fabric stiffener saturating thru the felt. place in microwave on medium on waxed paper for 30 second intervals (checking that it doesn't adhere to the waxed paper) until dry. once dry it can be cut like light weight cardboard into various shapes for numerous uses.

recycle dryer sheets as applique backing. draw the design on the sheet and then cut the fabric, leaving a seam allowance. sew around the design completely. to turn, cut a slit in the dryer sheet and force fabric thru slit.

home made papier mache

put used office paper in a pillowcase (tie very tightly so as to prevent breaking open). run it through a wash cycle. use a small amount of bleach to remove the ink if desired. after washing and spinning, remove pulp which can be stored in plastic bags in the refrigerator or freezer until needed.

home keeping

baskets

care for baskets and keep them from becoming brittle.soak in tepid water for a few minutes and allow to air dry. i do this once each year as a way to clean dust and keep the baskets in shape.

scissors

to extend the life of a scissors use separate scissors for paper than you use for cloth/ fabric. cutting both with the same scissors dulls and unevenly wears the blades. you can write "paper only" on the blade with a permanent marker to keep them separate.

stainless steel and bad odors

ever been cutting up onions or garlic or seafood only to find that hours later your hands still retain the odor of those foods? well try this: lather up your hands with soap then rub them,with the soap on, all over a stainless steel sink fixture making contact with all areas of your hands to the stainless steel. rinse. you many need to repeat, but it should "lift" the odor from your skin. toothpaste in place of soap is also supposed to lift stubborn odors from skin. one manufacturer even makes a stainless steel bar for this use.

water for steam iron & iron cleaning

the best water to use in your iron for steaming is distilled. regular tap & mineral/spring waters can build up deposits that clog the steam holes. you can clean your iron with a mixture of white vinegar and water set on highest setting and expel the mixture by ironing on an old thick towel until the water reservoir is empty. repeat again with water only to further flush.

like stained glass

to add sparkle to a sunny window string at varied lengths dried orange, lime & lemon slices on clear fishing line. slices can be dried on the oven rack at 200' until transparent but not brown or burnt. be sure to insert a small thin wire for a hanger before drying.

cardboard tubes

often use these to tote drawings to the copier or for mailing drawings by folding in the ends and securing with packing tape.sure beats buying those expensive mailing tubes!

garden tips

in the fall when hornets are at their worst avoid wearing floral prints, hairspray and perfumes. lemon balm rubbed on the skin will repel mosquitoes.

aging pots

to age terracotta pots and grow moss on them...grind up moss and a little bit of water in your blender or food processor. "paint" pots with soured plain yogurt then rub the moss mixture on. set in a cool, damp shaded area for a few weeks and mist daily. your pots should look as if they have been around for quite a few years. add your favorite plants and enjoy.

party ideas & tips

brown paper bag hot cocoa

my friend monica makes up a big batch of hot cocoa every holiday season and gives all her friends a little container of it. make it in a brown grocery bag or huge container. wouldn't it be fun to warm the heart and the tummy of your valentine(s) this year?

2 pounds Nestle Quick// 25 oz powdered milk// 1 pound powdered sugar//6 oz coffee creamer Mix thoroughly. Add 1/3 cup mix to hot water to make one cup hot cocoa. our favorite plants and enjoy.



---

Main Page &nbsp &nbsp &nbsp &nbsp gallery Index

---

All rights reserved. No part of this pattern or web page may be reproduced without written permission from the publisher. nor may any part of this newsletter be reproduced, stored in a retrieval system, or transmitted in any form or by any means -- electronic, mechanical, photo- copying, recording, or other -- without written permission from the publisher.

Permission is granted to individuals to print these tips for personal use and for limited distribution to friends. No mass copying and no re-sale or other commercial use is allowed.


Published to the internet by arrangement with Homespun Peddler.

---

For more information send e-mail to the Peddler.

v201.0

HOME PAGE CONTENTS
Site designed by OJ Advertising, Inc.
Site developed and maintained by MMCC, Inc.
Report problems or suggestions to support@mmcctech.com
Jackie Gannaway Cookbook Cupboard Index.